Faculty & Staff
Meet the team that makes up the Center for Gender & Sexuality Law.
For information on the Law, Rights, and Religion Project team, click here.
For information on the Equal Rights Amendment (ERA) Project team, click here.
---
Professor Katherine Franke, Director
Professor Katherine Franke's Faculty Page
Katherine Franke is the James L. Dohr Professor of Law at Columbia University, and Director of the Center for Gender & Sexuality Law. She is also on the Executive Committees of Columbia's Institute for the Study of Sexuality and Gender, and the Center for Palestine Studies. She is among the nation's leading scholars writing on law, sexuality race, and religion drawing from feminist, queer, and critical race theory.
Professor Franke is the founder and faculty director of the Law, Rights, and Religion Project, a think tank based at Columbia Law School that develops policy and thought leadership on the complex ways in which religious liberty rights interact with other fundamental rights. In 2021, Professor Franke launched the ERA Project, a law and policy think tank to develop academically rigorous research, policy papers, expert guidance, and strategic leadership on the Equal Rights Amendment (ERA) to the U.S. Constitution, and on the role of the ERA in advancing the larger cause of gender-based justice.
Professor Franke is currently leading a team that is researching Columbia Law School's relationship to slavery and its legacies. 
Her first book, Wedlocked: The Perils of Marriage Equality (NYU Press 2015), considers the costs of winning marriage rights for same sex couples today and for African Americans at the end of the Civil War. She was awarded a Guggenheim Fellowship in 2011 to undertake research for Wedlocked. Her second book, Repair: Redeeming the Promise of Slavery's Abolition (Haymarket Press 2019), makes the case for racial reparations in the United States by returning to a time at the end of slavery when many formerly enslaved people were provided land explicitly as a form of reparation, yet after President Abraham Lincoln was assassinated the land was stolen back from freed people and given to former slave owners.
Office Address: Jerome Greene Hall, Room 626
Phone: +1 (212) 854-0061
E-mail: katherine.franke@law.columbia.edu
---
Candace Bond-Theriault, Director of Racial Justice Policy and Strategy
Candace Bond-Theriault Esq., LL.M. (she/her/hers) is a Black queer feminist lawyer, writer, and social justice advocate working at the intersections of law, policy, reproductive health, rights, and justice, racial justice, economic justice, mental wellness, and LGBTQ+ liberation. Candace is the Director of Racial Justice Policy & Strategy at Columbia Law School's Center for Gender & Sexuality Law, where she conceptualizes and writes about law and policy research related to racial justice, reproductive rights, religious pluralism and sex/gender equality.
Bond-Theriault is on the board of SPARK Reproductive Justice NOW!, a Southern-based organization focused on centering the reproductive justice needs and experiences of Black women, women of color and QTYPOC folks. She is also an abortion and contraception subject matter expert and content generator for Our Bodies Ourselves Today, a newly revamped online resource hub that collates rigorously evaluated, carefully curated, and regularly updated information on reproductive health, rights and justice. 
She previously worked at Planned Parenthood Federation of America, the National LGBTQ Task Force, and the American Civil Liberties Union. Candace received her LL.M. degree in Constitutional Law with a dual focus on Gender & the Law and Politics & Legislation from the American University Washington College of Law, her J.D. from the North Carolina Central University School of Law, and her B.A. from the College of William and Mary. Her writing has appeared in The Nation, SELF Magazine, The Root, Rewire, The Advocate, Health Magazine, and numerous other publications. She lives in Northern Virginia, with her partner, kiddo, and super cute yorkie.
Email: cb3744@columbia.edu
---
Lilia Hadjiivanova, Associate Director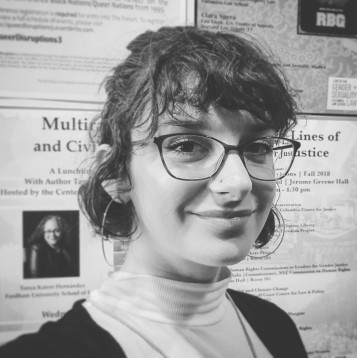 Lilia comes to the Center for Gender and Sexuality Law with extensive experience with program management in the nonprofit, government, and higher education sectors. Originally from Bulgaria, she completed her undergraduate degree in Communication and Media Studies at Loughborough University, UK. Upon graduation, she immigrated to the United States and attended California State University, Los Angeles, where she received a Master's degree in Communication Studies with a research focus on representation of gender and sexuality in television and film. 
She has stepped into a variety of roles, including Student Advisor for international students, Career Coach for LGBTQ immigrants, Communications Director for a patient advocacy nonprofit, Administrative Director for a presidential campaign, and Partnership Manager for a government-funded workforce development program. She was also part of the staff that started the Immigrant Opportunities Program at the historic LGBT Center in New York City. She serves on the Advisory Board of Deystvie, an organization dedicated to changing the lives of LGBTI+ Bulgarians through pro bono legal services, strategic litigation, educational campaigns and direct actions.
As Assistant Director of the Center for Gender and Sexuality Law, Lilia manages administrative, operational, and financial processes, and provides communications support for the Center and its projects, the Law, Rights, and Religion Project and the ERA Project.
Office Address: Jerome Greene Hall, 6th floor, 600/6 (next to Room 626)
Phone: +1 (212) 854-0167
E-mail: lh3024@columbia.edu
---
Professor Suzanne Goldberg, Director (Leave of Absence from the University)
Professor Suzanne Goldberg's Faculty Page
Suzanne Goldberg, one of the country's foremost experts on gender and sexuality law and a leading advocate for the LGBTQ community, serves as the Herbert and Doris Wechsler Clinical Professor of Law. She also leads the Law School's Center for Gender and Sexuality Law and its Sexuality and Gender Law Clinic.
Goldberg joined the Law School's full-time faculty in 2006. She previously served on the faculties of Rutgers School of Law­–Newark and Fordham Law School. In private practice, Goldberg served as a senior staff attorney at Lambda Legal, the country's first legal organization focused on achieving full equality for lesbian and gay people. During her time at Lambda, she served as co-counsel for the defendants in the landmark U.S. Supreme Court case Lawrence v. Texas.
In 2015, Goldberg was appointed to serve as Columbia University's first executive vice president for university life. In this role, she works to reinforce and broaden the university's commitment to respect, inclusion, and ethical leadership among students, faculty, and administrators. Goldberg is a frequent commentator and analyst for news media on sexuality and gender law, and on discrimination law and litigation issues. Her commentary has been featured on 20/20, CNN, and other national television networks, as well as on radio and news outlets around the world.
Goldberg graduated with honors from Brown University, and went on to serve as a Fulbright Fellow at the National University of Singapore. She earned her J.D. at Harvard Law School and later clerked for Justice Marie Garibaldi of the New Jersey Supreme Court. Goldberg is a recipient of the Law School's Willis L.M. Reese Prize for Excellence in Teaching.
Professor Suzanne Goldberg
Director, The Center for Gender & Sexuality Law
Office Address: Jerome Greene Hall, 635
Phone: +1 (212) 854-0411
E-mail: sgoldb1@law.columbia.edu