State Efforts to Limit Teaching Related to Gender Identity and Sexual Orientation Cut In Many Directions
Several states have passed laws prohibiting the teaching of anything "exploring gender identity, gender expression, or sexual orientation."  The laws are intended to target materials that deal with homosexuality or transgender identities, but are written so broadly that they would include a wide range of texts routinely taught for generations. Beloved classics like Little Women, Cinderella and Wuthering Heights would also need to be banned.
Kentucky's Senate Bill 150 (SB 150) states: "Any child, regardless of grade level, enrolled in the district does not receive any instruction or presentation that has a goal or purpose of students studying or exploring gender identity, gender expression, or sexual orientation."
Based on this language, the following books/plays could be banned.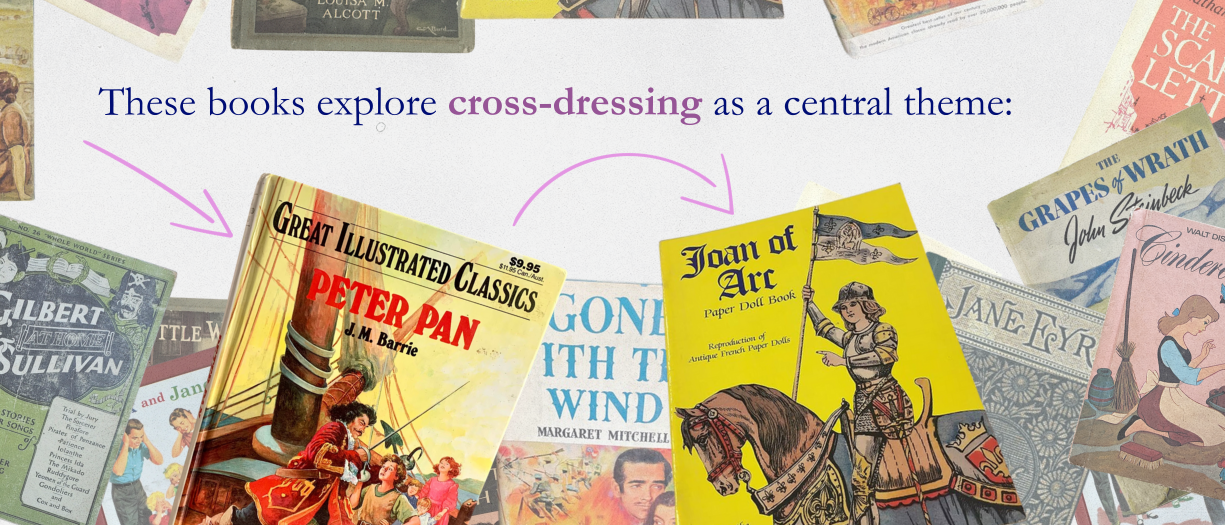 Texts Exploring Cross-dressing as a Plot Device:
Peter Pan: Starting with the first stage production in 1904, the role of Peter is usually played by a petite adult woman.
Merchant of Venice: Portia (and her "maid") dress and pass as men in order to appear in court as a lawyer to defend Antonio against a suit for the 'pound of flesh' he owes as forfeiture for failing to.
Twelfth Night: Viola dresses as a man, Cesario, and is employed by Duke Orsinio, Viola's love interest. Orsinio uses Cesario as a go-between with his love interest Olivia, who falls in love with Cesario, thus creating a rousing cross-dressing love triangle: Viola loves Duke Orsino, Duke Orsino loves Olivia, and Olivia loves Viola disguised as Cesario.
As You Like It: Rosalind dresses as a man, Ganymede, for her protection, and then Ganymede dresses as a woman to help a male friend woo Rosalind, while a female character Phoebe falls for Ganymede. Since in Shakespearian times, female parts were played by men, the role of Rosalind is a male actor who dresses as a woman (Rosalind), dressing as a man (Ganymede), dressing as a woman to practice wooing Rosalind.
Lord of the Rings: Éowyn disguises herself as man and goes by the name Dernhelm in order to fight in the Battle of the Pelennor Fields.
Jane Eyre: Mr. Rochester cross-dresses as a Romaní fortune-teller while trying to get Jane to reveal her love for him.
The Bible: Eunuchs act as a kind of "third sex," Joseph's and his rainbow-colored "coat of many colors." 
National Velvet: Velvet Brown (Elizabeth Taylor) disguises herself as a male jockey so she can train a horse for the Grand National steeplechase.
nearly every Gilbert & Sullivan operetta
Joan of Arc: This classic story's entire plot revolves around Joan cross-dressing so she can serve in the army.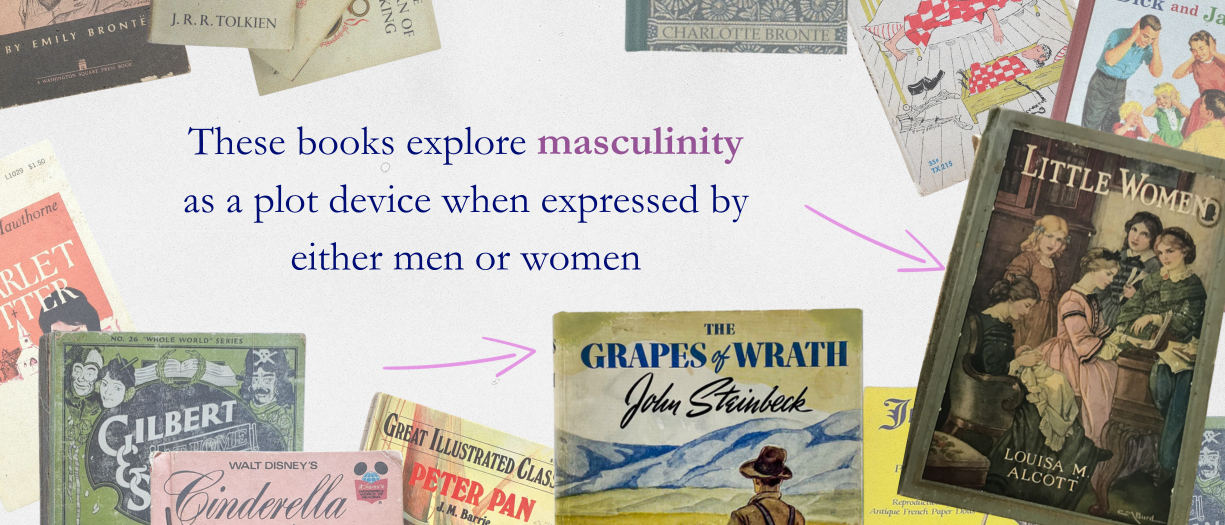 Texts Studying/Exploring Cisgender Identity:
Old Yeller: When Travis' father departs, he urges the young boy to "act like [a man]" in his absence. Throughout the book, Travis grapples with an understanding of masculinity as the ability to ignore or suppress emotions.
The Scarlet Letter: Story's plot explores themes of masculine narcissism, femininity, and subversive female sexuality.
The Yellow Wallpaper: Gilman's short story explores the consequences of fixed gender roles within the context of heterosexual marriage.
The Taming of the Shrew: Shakespeare's text explores forced submissiveness as a tool of violent masculinity, as can be seen in Act IV when Petruchio breaks Katharina's spirit.
Where the Red Fern Grows: Billy explores conceptions of manhood and masculinity through his journey as a hunter.
Little Women: Story revolves around the protagonists' struggles with the roles they're expected to perform as young women. 
Everything written by John Steinbeck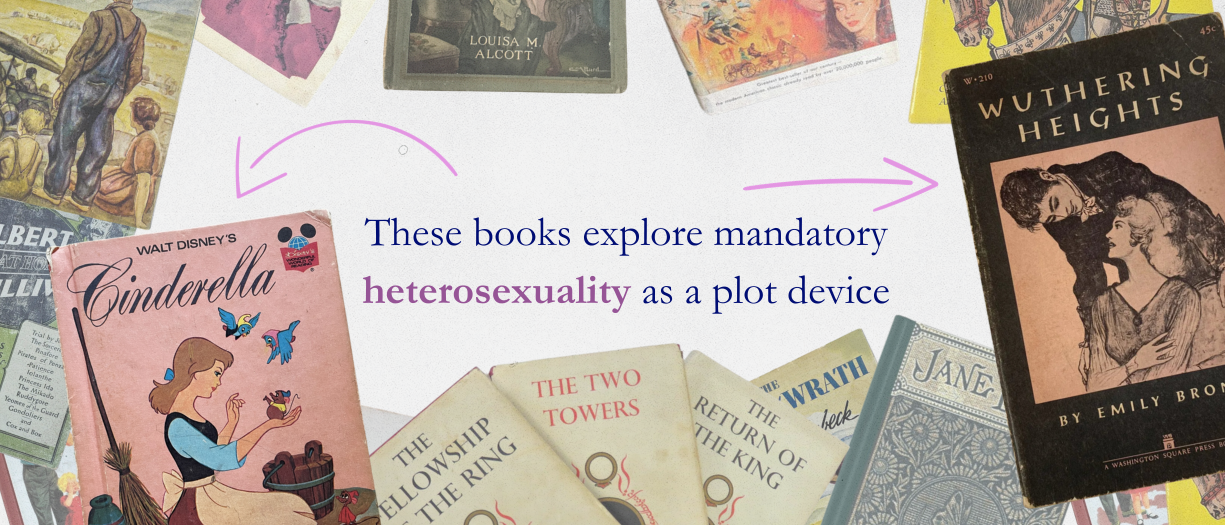 Texts Exploring Heterosexuality as a Plot Device:
Cinderella: Plotline revolves around Cinderella's relationship with Prince Charming, catalyzed primarily by his physical attraction to her and her need for escape from an abusive home.
Romeo and Juliette: Heterosexual love is portrayed as utterly all-consuming, internally destabilizing, and ultimately worth dying for.
Wuthering Heights: Brontë explores gender and heterosexuality by way of the protagonists' romantic relationships.
Fun with Dick and Jane: Portrays an idealized heterosexual nuclear family structure.
Little Women: Explores obligatory heterosexuality and the challenges of gender expectations in young womanhood.
Portrait of a Lady: Explores different ways of performing femininity in the context of heterosexual romance.
Their Eyes Were Watching God: Hurston explores the ways in which men assert superiority over their female partners and force them into subservience.
The Bible, Genesis: Portrayal of the "original" idealized heterosexual couple. Eve is created from Adam, helping to shape a long tradition of viewing women as being made for men.
Gone with the Wind: portrays male dominance and female passivity, a model for classical heterosexual romantic love.